About Us
Harmita Press, is a niche publisher focused on contemporary themes for specific novels and business journals.  Right now we are focused on our current work and not accepting any new submissions but may be in the near future.
We recently produced a new novel by bestselling author Dominic Certo and his co-author Len Harac, titled GOLD IN THE COFFINS.  This is an exciting story about a group of combat weary Marines who are swindled by Wall Street power brokers in going public and decide to extract retribution their own way.  The book has been well received by reviewers and reflects some real life events. Here are some reviews:
Click here to see the 1 minute video trailer on YouTube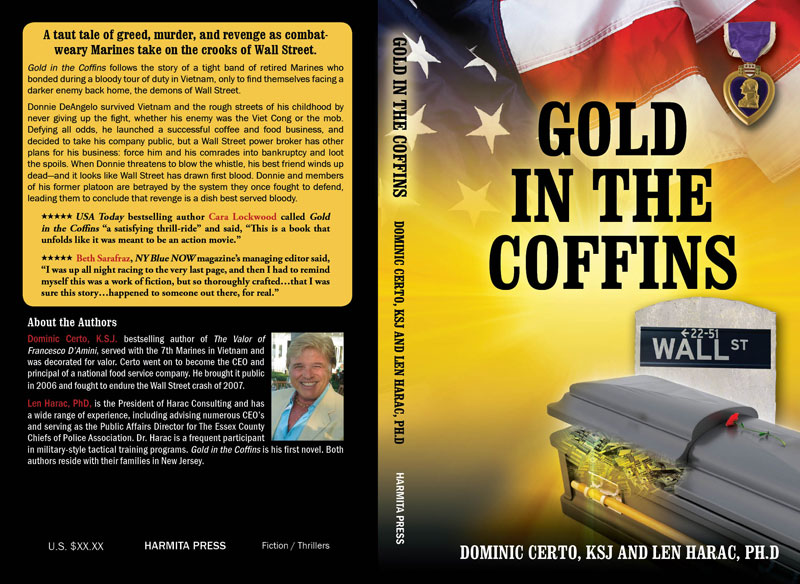 ---

USA Today bestselling author Cara Lockwood called Gold in the Coffins "a satisfying thrill -ride" and said, "This is a book that unfolds like it was meant to be an action movie."
---

Beth Sarafraz, NY Blue NOW magazine's managing editor said, "I was up all night racing to the very last page, and then I had to remind myself this was a work of fiction, but so thoroughly crafted ... that I was sure this story ... happened to someone out there, for real."
---
---
HARMITA PRESS (a division of Harmita, LLC) 1360 Clifton Ave., Suite 327 Clifton, NJ 07012